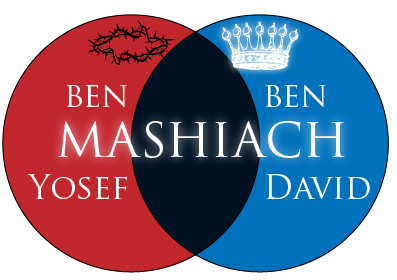 "And they said, 'Is not this Yahoshua, the son of Joseph, whose father and mother we know? How is it then that He says, "I have come down out of the heaven?"' 
John 6.42
DID THE BIBLE SPEAK OF 2 MESSIAH'S
Ben Messiah Joseph & Ben Messiah David
Could there be 2 Messiahs based off of Jewish interpretation of the scriptures?  And if so, are these 2 Messianic Figures different people, or One in the Same? Let's consider something immediately.  If we live in a universe of Duality or a Binary existence (positive/negative, light/dark, male/female, electro-magnetism) then it shouldn't be too difficult to realize the possibility of the 2 Messiahs.  But again, is this a reference to 2 separate Messiahs?
If you read any of my articles, you may have learned that I am a firm subscriber to the Biblical scriptures having esoteric understandings.  And, if you study the Biblical texts, it should be no longer be a mystery that the scriptures often reveal truth behind truth, and layers of meaning.  If you have ever heard someone say, "sometimes when I read the Bible, I see things I didn't see before, or it speaks something new to me", then you are getting a glimpse as to what we mean when we say layers of meaning.  As a student of the Biblical Scriptures, I have often found myself not just noticing things in the scripture I never noticed before (even if I had read it several times), but also seeing a layer of meaning in the text that didn't reveal itself before.  Furthermore, I have seen the scriptures speak to me for where I was in my life, giving it more of a magical mystical affect on me.
I must admit, I truly love and delight in these times of biblical study, and with that being said, I also must admit there is some controversy behind the claim for 2 Messiahs as some say it is not Torah(Hebraic Old Testament) based.  In the Universe of God we are free to investigate the truth, and follow the enlightened path that leads us to it. So let's uncover more about the alleged 2 Messiahs alluded to in scriptures.
Did you know that Jewish tradition has identified what is referred to as 2 redeemers?  Rabbis have agreed that there is an expected Savior/Redeemer for Israel, and they have believed it to be Messiah (Mashiach) ben David, who is of the tribe of Judah and shall rule in the Messianic Age (John Parsons-hebrews4christians).  Upon further study and interpretation of the scriptures however, Rabbi's also speak of Messiah ben Yosef from their exegesis of the scripture Obadiah 1:18 and Bavli Sukah 52b. Jewish tradition recognizes that the Messiah (ha-Mashiach) ben Yosef will come first in an effort to prepare the world for the coming King, Messiah ben David. Before I go further let me first identify a few words to assist the traditional Christian believer in regards to who we are referring to in the English interpretation of the Biblical text.  Mashiach is Messiah, and Yosef is Joseph. As we go further into the study of the 2 Messiahs, we will discover Jesus's paralleling of Joseph in the Bible. To keep with traditional Christian understanding, we will refer to Mashiach ben Yosef as Messiah ben Joseph for clarity purposes.
Messiah ben Joseph is first to come, which would be commonly understood as Jesus's first coming or first advent.  Messiah ben Joseph comes as a lowly servant, his identity masked by a figure of servitude, but and identity that should have been recognized by the first-class priests of the day, the Sadducees, Pharisees, and Zealots.  Messiah ben Joseph had a special purpose to prepare not only for the coming king or the second coming (advent), but to fulfill scriptures, and secure his identity to those who studied and believed the scriptures. The first Messiah, is said to be of the tribe of Ephraim (son of Joseph) and is even sometimes referred to as Messiah ben Ephraim (Bavli Sukah 52b).  Here is an example of scripture fulfillment as the both the references to this same Messiah are recorded and associated as Messiah ben Joseph and Messiah ben Ephraim (son of Joseph). However, let us remember or acknowledge that Jesus was also the son of Joseph in the New Testament. Again, we must acknowledge the testament and fulfillment taking place so we can track the truth where it leads.
Messiah ben Joseph (out of the house/tribe of Ephraim) will fight Gods wars against what is collectively understood as Edom, or Gods enemies towards Israel during a unique time or age/epoch that precedes the Ikvot Mashiach-footsteps of the Messiah-and Messianic Kingdom of Judah (John Parsons).  When we start to unravel Messiah ben Joseph we are led to Jacob (Israel) and Rachel, the parents of Joseph in the Bible who saved the world during a famine and suffered greatly before he was exalted over the nations.
During the war against evil, it is understood that Messiah ben Joseph will actually be killed as hinted to in Zechariah 12:10.  It is to difficult to skip past this scripture because it is full of revelation to the Messiah ben Joseph (the suffering Messiah in the New Testament) and Messiah ben David, the King of Kings and Lord of Lords.
Zechariah 12:10 reads:
"And I will pour out on the house of David and the inhabitants of Jerusalem a spirit of grace and pleas for mercy, so that, when they look on me, on him whom they have pierced, they shall mourn for him, as one mourns for an only child, and weep bitterly over him, as one weeps over a firstborn."
Here's where one revelation comes to this short scripture.  The Bible tells us that those who have pierced the Messiah will mourn for him one day, as one mourns for their only child, weeping bitterly over a "Firstborn".  It refers to mercy and a spirit of grace will be poured on the House of David and the people of Jerusalem (city of peace/Israel). I'd like to mention that Jesus was pierced on his side, where the rib is (rib of Adam-possible correlation to the Holy Spirit water pouring out where Eve was pulled and could be a indicator of the feminine holy spirit), and he is called the "First born of many brethren, furthermore, he will be merciful to the house of David, a direct correlation to the time when he returns to give this type of mercy and grace, during the return of Messiah ben David, in the second advent, the Messianic Age; the time of the House of Judah (Leo the Lion).  This scripture in Zechariah is full of connections to both the firstborn, Jesus, who is called God's firstborn son, his offer of grace, and the repentance of those who scorned him, killed him, and ultimately throughout the age of Pisces (the church age), denied him.
One more thing to note is when Jesus (Messiah ben Joseph, son of Joseph, house of Ephraim, suffering servant) was crucified as a sacrificial lamb (the final sacrifice), he was pierced or stabbed in his side (John 19:34) where water and blood proceeded out; causing the Roman soldier to be healed of his blind eye, and become a believer in Jesus.  Here is a scriptural reference to the piercing, and another reference to the Christian legend that speaks about the converted Roman soldier who stabbed Jesus's side.
According to Godwin (1994) in The Holy Grail; Its Origins, Secrets & Meaning Revealed, the Christian legend says, this Roman centurion who thrust the spear into the side of Jesus Christ at the crucifixion was blind (not completely but partially, or in one eye his sight was very weak as referred in this story in various writings), who thrust the spear (now known as the Spear of Destiny-associated with the Holy Grail in some writings), and when some of Jesus's blood touched his eyes, he was then healed and this miracle turned the Roman soldier (referred to as Longinus in Christian legend) into a believer of Jesus. (Godwin, Malcolm (1994). The Holy Grail: Its Origins, Secrets & Meaning Revealed. Viking Penguin. p. 51. ISBN 0-670-85128-0.)
John 19:34-37
"but when they got to Yeshua and saw that he was already dead, they didn't break his legs. 34 However, one of the soldiers stabbed his side with a spear, and at once blood and water flowed out. 35 The man who saw it has testified about it, and his testimony is true. And he knows that he tells the truth, so you too can trust. 36 For these things happened in order to fulfill this passage of the Tanakh (CJB): For these things were done that the Scripture should be fulfilled, "Not one of His bones shall be broken." 37 And again another Scripture says, "They shall look on Him whom they pierced."
Whether this soldier was converted or not is not the focus, however, it is fair to mention, but more importantly to note is the cross referencing of paralleling, or foretelling scriptures about this Messiah ben Joseph who would be pierced and cause nations to repent both before the second coming as Messiah ben David; and at the 2nd advent of Messiah ben David, who comes not as a lowly servant but as a King of Kings.  Let's dig further into this deep truth shall we.
As if to practically foretell to us what would follow before the 2nd coming of Christ, we learn that Messianic Jews believed that Messiah ben Joseph's death would also bring on great tribulations for Israel, and soon after the Messiah would return as Messiah (Mashiach) ben David to bring in the Messianic kingdom to earth (yemot hamashiach).  Rabbi Saadiah and other sages have recognized this opportunity of repentance to provide the Jews an escape from tribulation, and immediate deliverance, however, if they were not repentant than they would suffer the fate of tribulation, or more suffering, only to bring them back on the right path (Sanhedrin 97b).  Does any of this sound familiar to the Christian faith of Christ bringing a time of mercy and grace to lead to repentance and belief in Him as the Messiah, and thereby, offering an escape from great tribulation, and an immediate help or redemptive way out through Rapture. While it may not be saying these words specifically, it again is paralleling these New Testament beliefs.  And this is not the only correlating tradition or scriptural understanding of beliefs and doctrines like these.
The First Messiah is referenced in the Tanakh as one riding on a donkey as stated in Zechariah 9:9.
"Rejoice greatly, O daughter of Zion!
Shout, O daughter of Jerusalem!
Behold, your King is coming to you;
He is just and having salvation,
Lowly and riding on a donkey,
A colt, the foal of a donkey. (NKJV & CJB)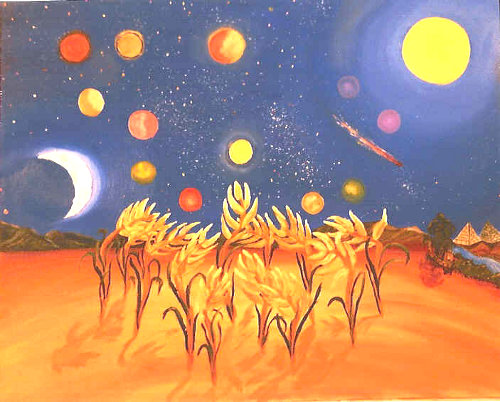 The Messiah here is said to come humbly, riding on a donkey, lowly and on a colt (baby donkey), but he is also referred to as Zion and Jerusalem's King who is coming.  The scripture plainly tells us the King of Peace or Jerusalem is coming, but as a lowly and humble King, who is just and has salvation with him. Interestingly enough in the Bible, this scripture is titled, "The Coming King."  This is a strong depiction of Messiah ben Joseph, who comes first, starting off like a colt, as a baby, wrapped in humility because he is born in a manger and not in a palace, but he is said to be the King who comes with salvation.
Luke 2:6-12
While they were there, the time came for the baby to be born, 7 and she gave birth to her firstborn, a son. She wrapped him in cloths and placed him in a manger, because there was no guest room available for them.
8 And there were shepherds living out in the fields nearby, keeping watch over their flocks at night. 9 An angel of the Lord appeared to them, and the glory of the Lord shone around them, and they were terrified. 10 But the angel said to them, "Do not be afraid. I bring you good news that will cause great joy for all the people. 11 Today in the town of David a Savior has been born to you; he is the Messiah, the Lord. 12 This will be a sign to you: You will find a baby wrapped in cloths and lying in a manger."
(KJV translation says, born in the city of David, which is Christ the Lord)
The scripture of the New Testament again backs up the scripture of the Old Testament, the 2 testifying witnesses of what was foretold and what is now fulfilled.  Notice baby Jesus is called Mary's firstborn, and a son at that. This is another cross referencing to Jesus being the firstborn. Jesus refers to himself in the scripture (Mark 2:10) as the Son of man who has no where to rest his head (Luke 9:58), and in Luke 2, at his birth, there is no place for him to be born, and no place for his mother to rest and give birth to him.  It is noteworthy, that in the Old Testament God referred to this "Son of man" often (Ezekiel 3:17, etc). This is again, a foreshadowing of this Messiah, who comes as the Son of man, in which Jesus referred to himself as in Mark 2:10. Then we see in this scripture that he was brought into the world in an area where there were fields surrounded by shepherds, who were watching over their flocks at night.  Jesus is known as the Good Shepard (John 10:11) and the sheared over many flocks (John 10:16). In John 10:11 Jesus is called the Good Shepard who lays down his life (sacrifices) for his flock. The angel (messenger of God/Courier of Light-refer to angels of light article) who is there to bring light through the enlightenment found in truth, delivers the message that they are being brought good news; that today in the town of David, a Savior is born, and he IS the Messiah, he is the Lord, and this IS a Sign to you.  Allow me to indulge here and say, this scripture is in Luke 2, a number signaling 2 witness, which we are examining now in the Old and New Testament, and possibly a sign of 2 Messiahs here, entering lowly, but acknowledged as King and Lord (G2962-kyrios–God, the Messiah, owner, the master, title of honor with which servants greet their master, etc. according to Interlinear concordance Greek translation) even born in the territory of King David.
As we work to unravel the knowledge of Messiah ben Joseph and Messiah ben David we cannot skip past these references without unfolding them as they bear witness and testimony to the truth about Jesus, the Messiah.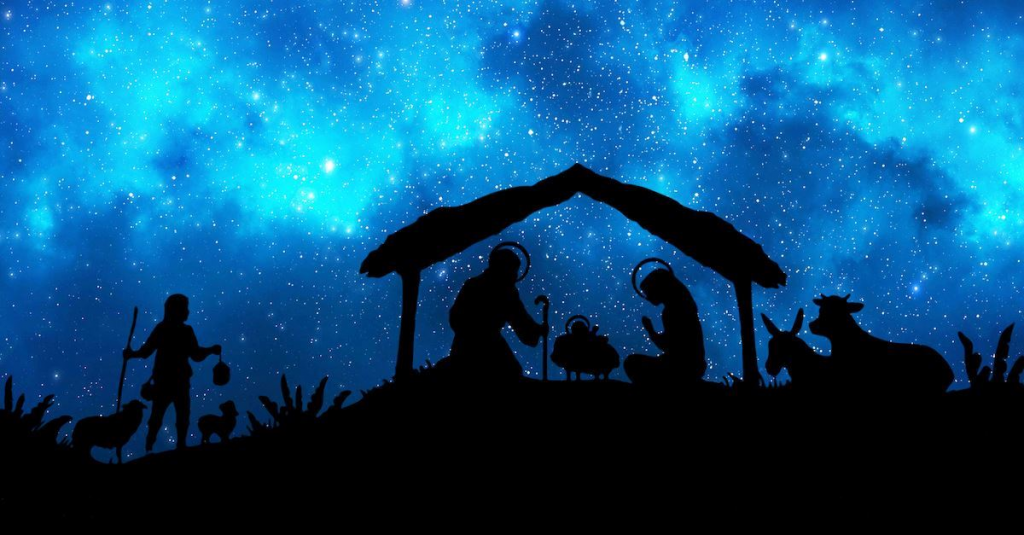 Jesus Christ (Yeshua in Hebrew, Joseph or Yosef) was born in a field of flocks of sheep with shepherds said to be watching their sheep in the night.  Jesus was born at night, which is associated with darkness and evil, and could correlate our understanding of him as the Messiah ben Joseph who came to suffer and be put to death through the evil corruption of the world.  So, Jesus was born in a time of great darkness and suffering. During this time the Jews suffered at the hands of the Roman government, and even suffered from the corrupt priests during this 1st advent.  According to Myles Monroe, "Rediscovering the Kingdom", Jesus was born during a time when the ruling government of the Romans, most closely mimicked the government authority or kingdom of heaven.  An example of this is seen when the Roman centurion told Jesus to just say the word, and his servant would be healed, and Jesus acknowledges that this is kingdom faith, understanding that Jesus did not have to leave his present place to heal, but could just send his word to heal, because the command of a king was supreme, and the word could not return void.  Jesus doesn't go to heal, he first asks the Roman "Shall I come to heal him?" I believe he asked to give an opportunity for us to see how the Kingdom operates. So here we see Jesus serving the people through healing but exercising kingdom authority. This is one small example of Jesus who born among servants, sheep, and sheparders also displayed the foretelling and foreshadowing of himself as King and his authority as Kingdom authority.
Matthew 8:6-13:
When Jesus had entered Capernaum, a centurion came to him, asking for help. 6 "Lord," he said, "my servant lies at home paralyzed, suffering terribly."
7 Jesus said to him, "Shall I come and heal him?"
8 The centurion replied, "Lord, I do not deserve to have you come under my roof. But just say the word, and my servant will be healed. 9 For I myself am a man under authority, with soldiers under me. I tell this one, 'Go,' and he goes; and that one, 'Come,' and he comes. I say to my servant, 'Do this,' and he does it."
10 When Jesus heard this, he was amazed and said to those following him, "Truly I tell you, I have not found anyone in Israel with such great faith. 11 I say to you that many will come from the east and the west, and will take their places at the feast with Abraham, Isaac and Jacob in the kingdom of heaven. 12 But the subjects of the kingdom will be thrown outside, into the darkness, where there will be weeping and gnashing of teeth."
13 Then Jesus said to the centurion, "Go! Let it be done just as you believed it would." And his servant was healed at that moment.
Jesus being born amongst sheep and shepherds, who are watching during the night, where the flocks are gathered (Jeremiah 31:10) is a parallel of Jesus being a shepherd of many flocks (John 10:16) who will become one flock with one shepherd.  When Jesus is born he is born with many flocks around and many shepherds, however, his arrival also tells us that he is the one shepherd being born, who has gathered together many flocks already at the very entry of himself upon his birth in the field of many flocks!
We will the fact that Jesus is born in a field of shepherds and watchmen as the scriptures point to the person referenced in the Old Testament as being the One born in the New Testament, hence a New Testament is upon us all.  The scriptures are pointing us to a Messiah ben Yosef, and a Messiah ben David. There are numerous depictions of the Savior Christ as the figure Joseph, figuratively building a case for the Messiah of the 1st coming and the Messiah of the 2nd coming.
After this we will conclude Part 1 of the examination of the 2 Messiahs for time-sake.  The scriptures below are simply placed in this article to enlighten us to the witness of Christ's birth being foretold and finding its connections to Christ being born with sheep and shepherds or watchmen, as a depiction of who he was at his first coming!